"What we achieve inwardly will change outer reality" -Plutarch-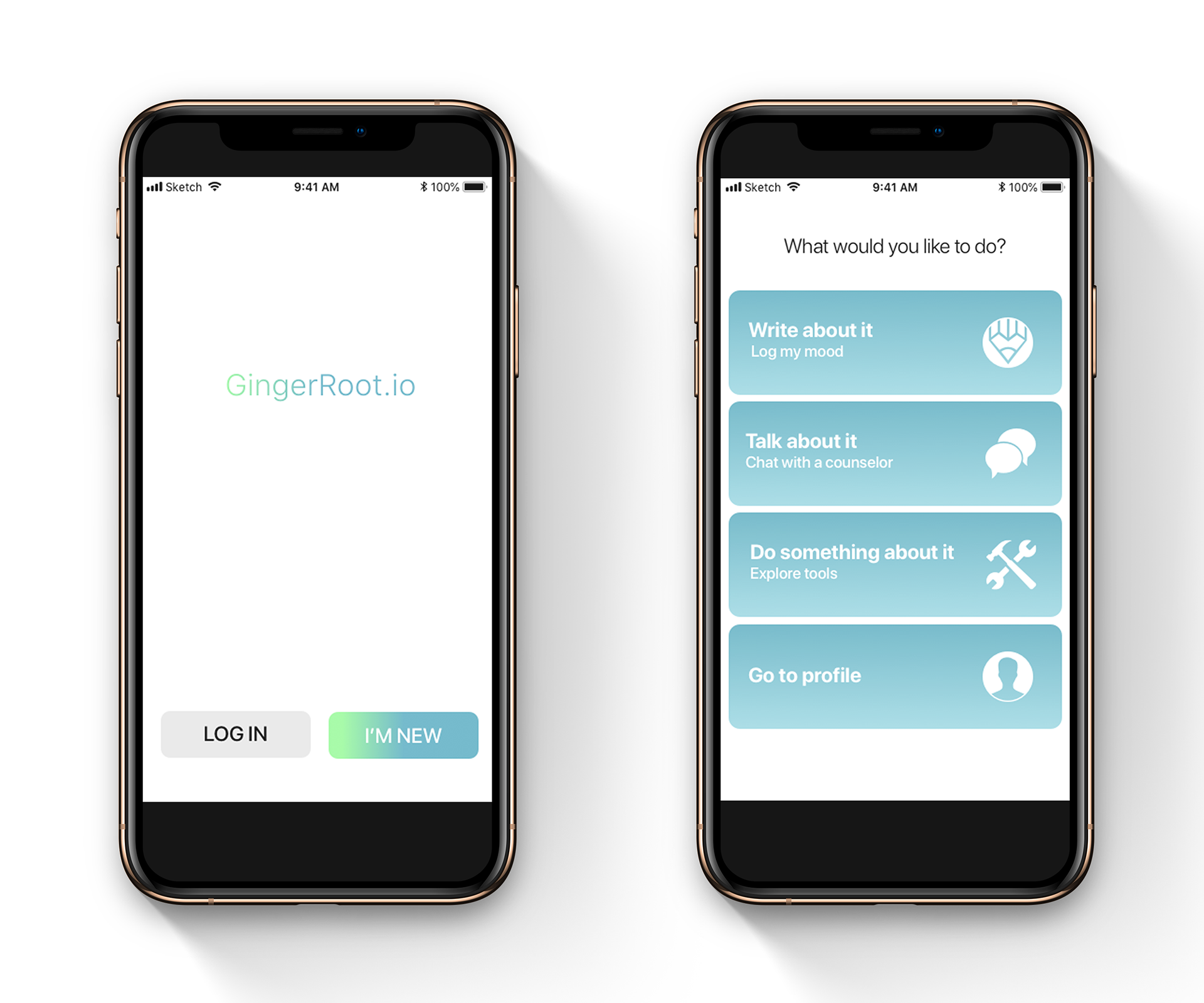 Ginger.IO provides research-based mental health coaching via iOS and Android native apps. Over 15,000 applications occupy this market, as of the 2015 World Health Organization Survey. Ginger.IO separates itself from the competition by offering live mental health coaching at no cost to the user. Ginger's clients are companies and their employees. Employers buy Ginger to address the loss of productivity cause by untreated mental health issues. Employees get access to high-quality coaching on demand. Our design team goal,
extending Ginger's reach to teens age 13-18
and
adding a parent monitoring interface
.
2 week sprint
-
 Research, ideation, design, and usability testing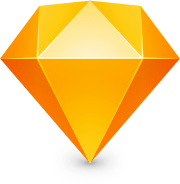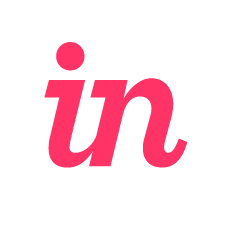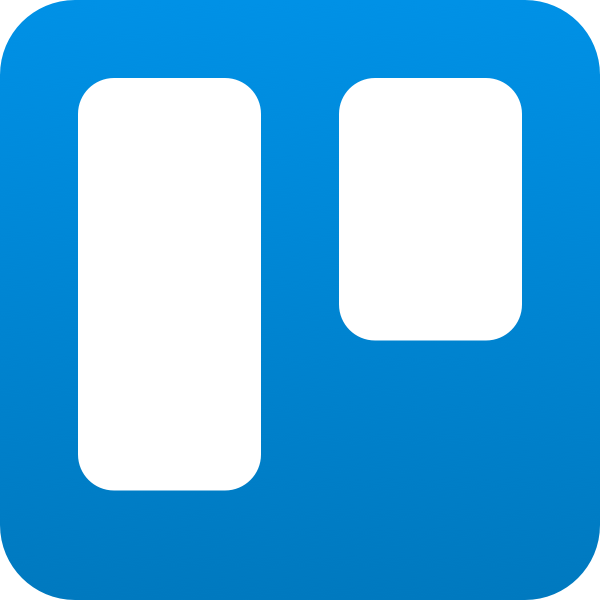 We believe that teens should have access to high-quality mental health services. Setting up the next generation for success involves building resilience now. The unaddressed problems of today become the workforce of tomorrow.​​​​​​​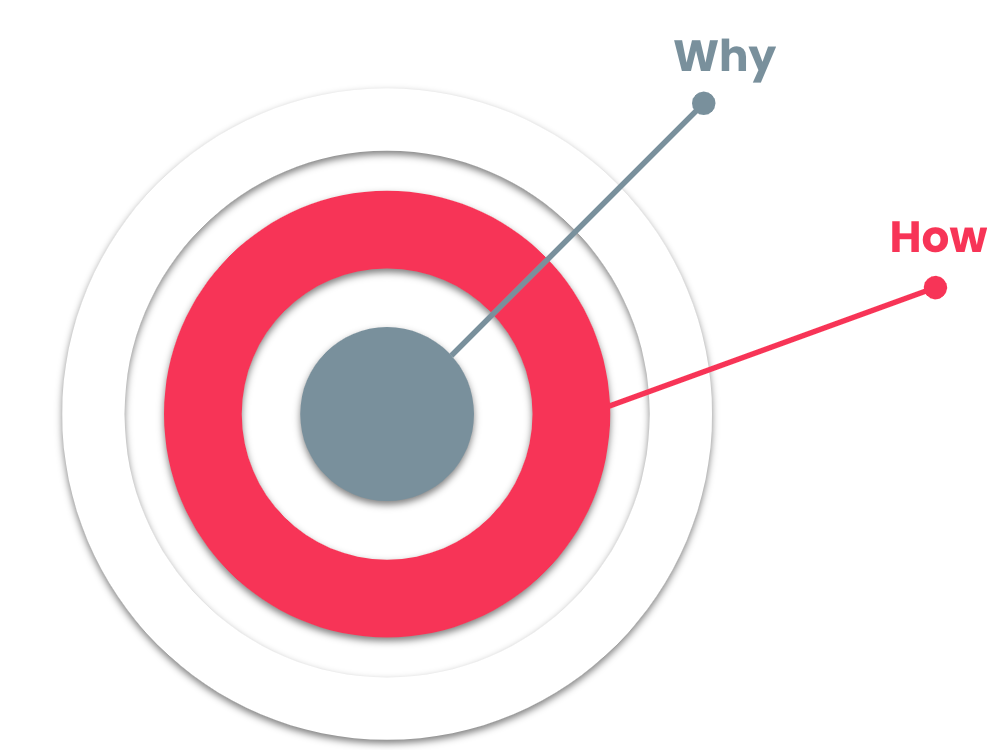 GingerRoots.IO can bridge the gap of access through 24/7 online coaching and self-directed tools. By offering the app to an entire peer group, the stigma of care diminishes. GingerRoots.IO empowers teens to co-own their care with trained professionals. Traditional pathways to care involve navigating a complex health care system. Often, this makes teens dependent on parental support eroding privacy. ​​​​​​​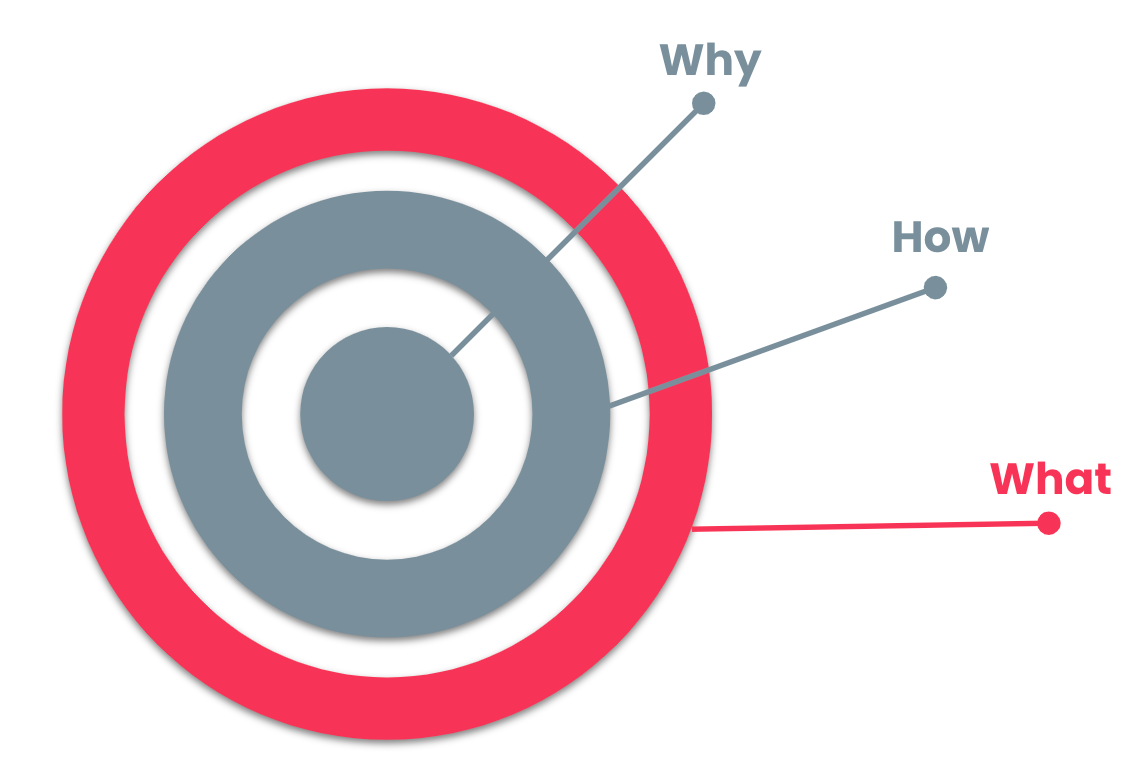 GingerRoots.IO incorporates best practice live coaching tailored for teens 13-18. The cornerstone of the existing application remains front and center. Supporting self-directed features are also brought to the main stage. Trust builds over time, engaging teens in these wrap-around tools compliments live coaching. Tools like mood tracking promote self-reflection. While features like going for a walk encourage autonomy.
Goal:
Build user trust before emphasizing live coach, particular between minors and adults.
Goal:
Balance self-directed and guided content to support retention.
Goal:
Tailor content for more age appropriate subjects.
The Hill to Climb: Mental Health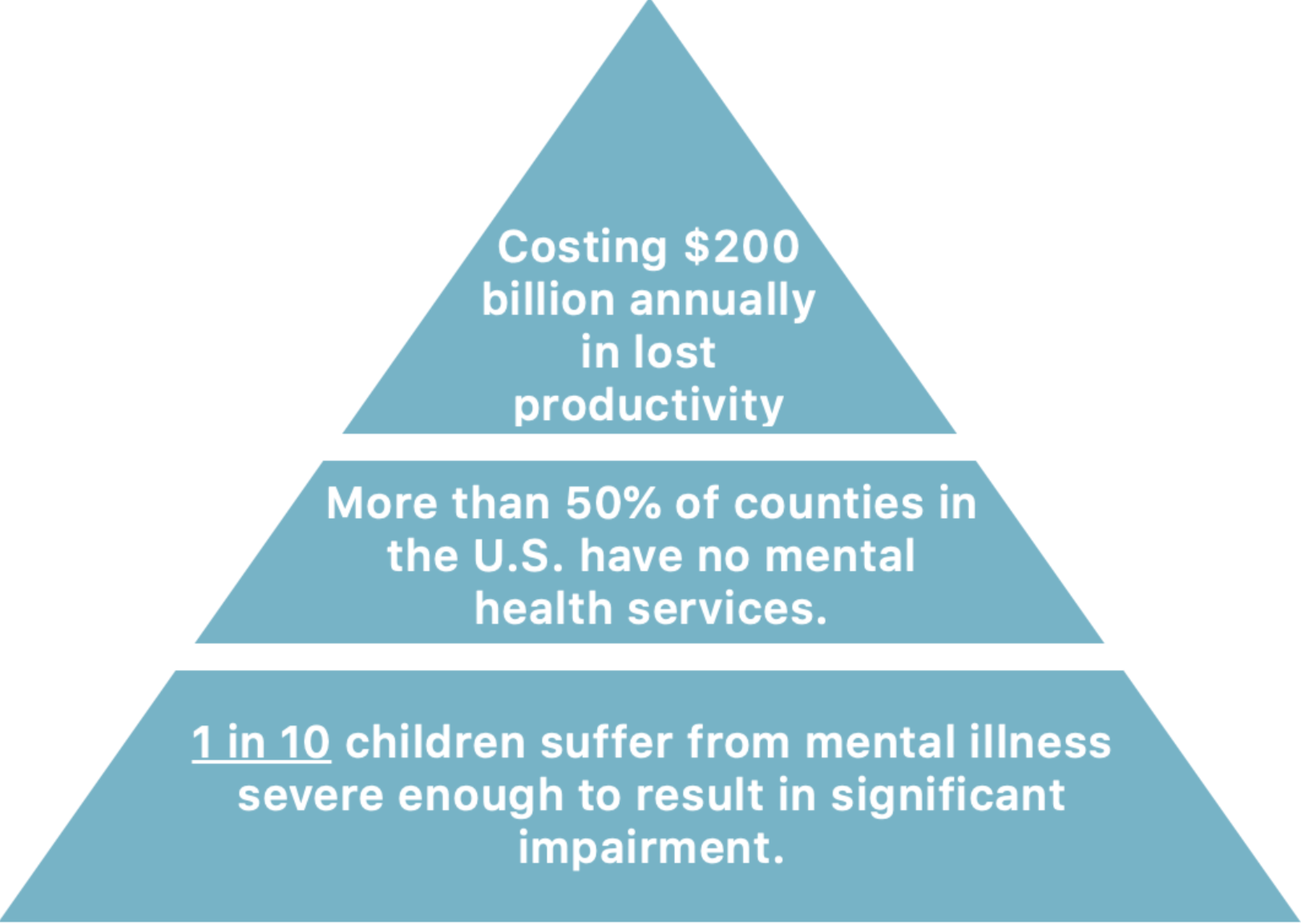 We identified three primary groups to interview for app design: teens, parents, and school counselors. Parents and counselors inform the existing support structure available to teens. We sought to understand the tools and approaches they take, the concerns they observe, and where they fit in our design. They occupy a place of familiarity and trust, when and how do teens engage them?
So what did we learn...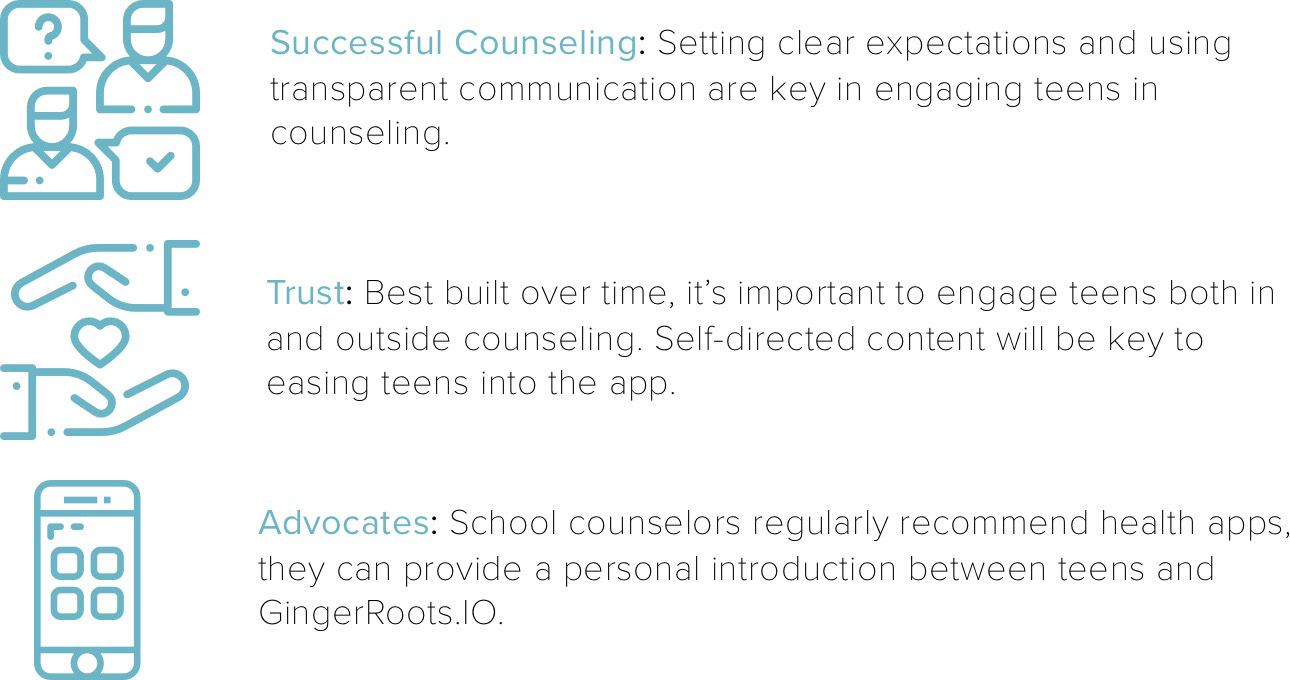 As the primary app user, we interviewed teens to gather insights into their challenges, tools, and networks. Understanding how to meet teens where they are at, and keep them engaged is our goal. Where do they talk about issues? What tools provide value and captivate teens? What do they trust?
• Teens do not believe they will get confidentiality either from a mobile app provided by their parents, or when working with a mental health professional in-person.
• Teens prioritize wanting to feel normal, gain autonomy, and the content Ginger includes for them needs to be anchored in their own daily challenges.
•
Teens don't want to bother others with their struggles, preferring to use self-directed tools that are non-intrusive instead.
Who we are trying to reach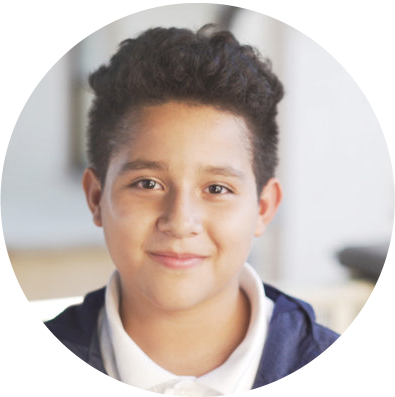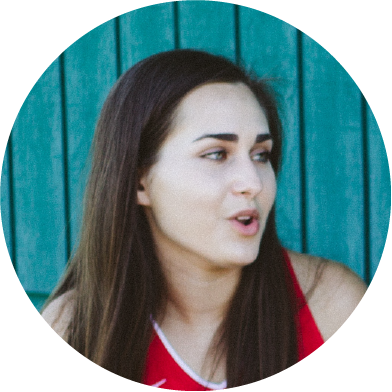 We grouped our audience into two categories based on interviews, high-risk and low-risk. This allowed us to explore how coaching and self-directed tools would align with the disparity in need. To learn more about our audience, the following Sketch file will
introduce you to Jackson and Lula
.
Teens did not want to use an app they got from their parents. Our delivery mechanism, as a result, fell apart. Rather than letting that derail our design, we pivoted.
Based on our research and interviews,
the delivery mechanism and the app had to build trust.
For this expansion, we advocate working with school districts as the buyer. The same mental health challenges that impact adult productivity can impact student test scores. The return on investment is thus student and teacher outcomes. Successful interventions in student outcomes produce downstream cost savings on public services. Criminal incarceration, public health, and earning potential all link back to education.
Now that we validated our direction, we set about designing for our primary audiences, high-risk and low-risk teens. The existing user experience displayed below highlights focus areas for tailoring the experience to teens.
The orange dotted line represents the aspirational path for our design revisions.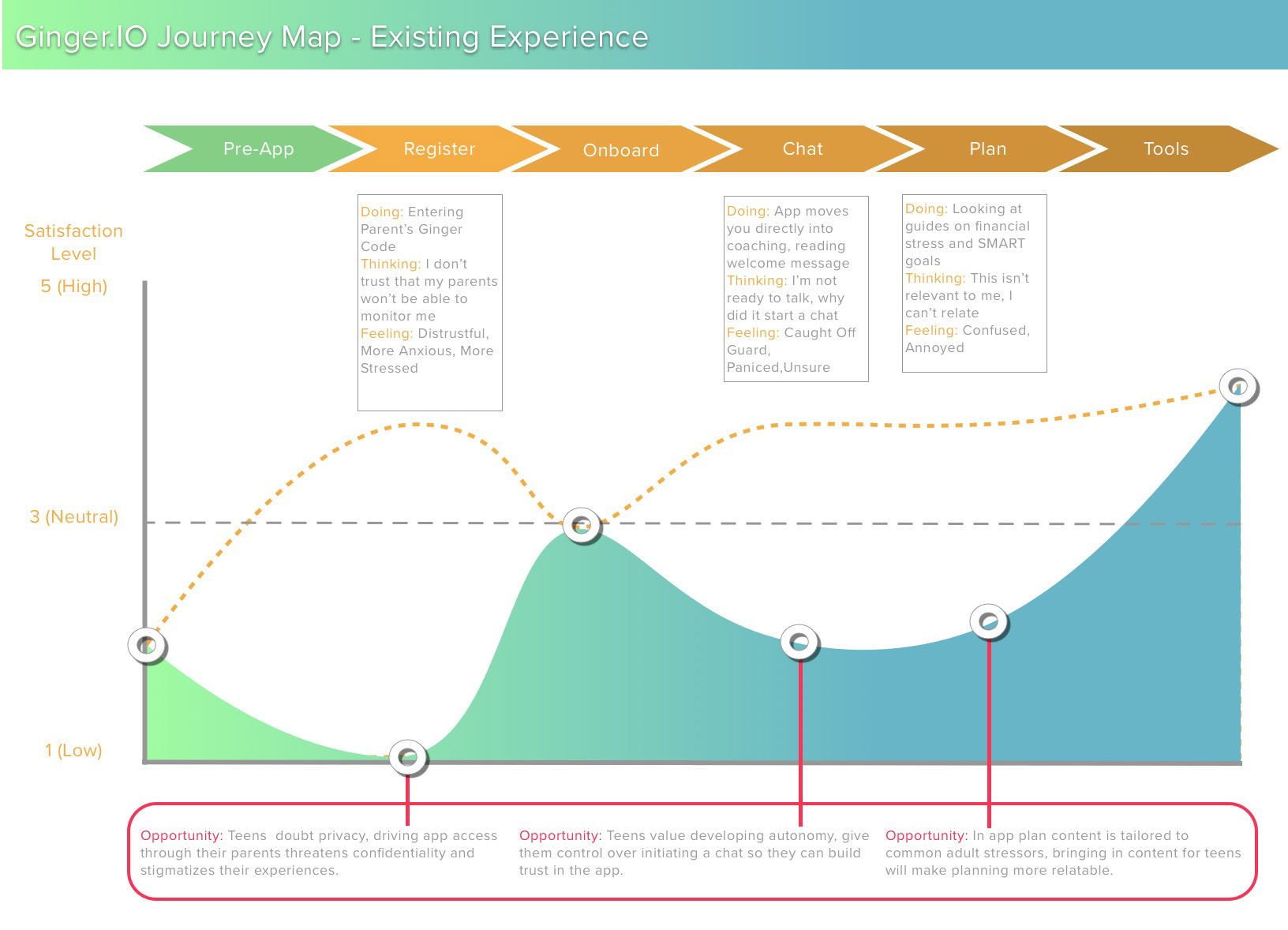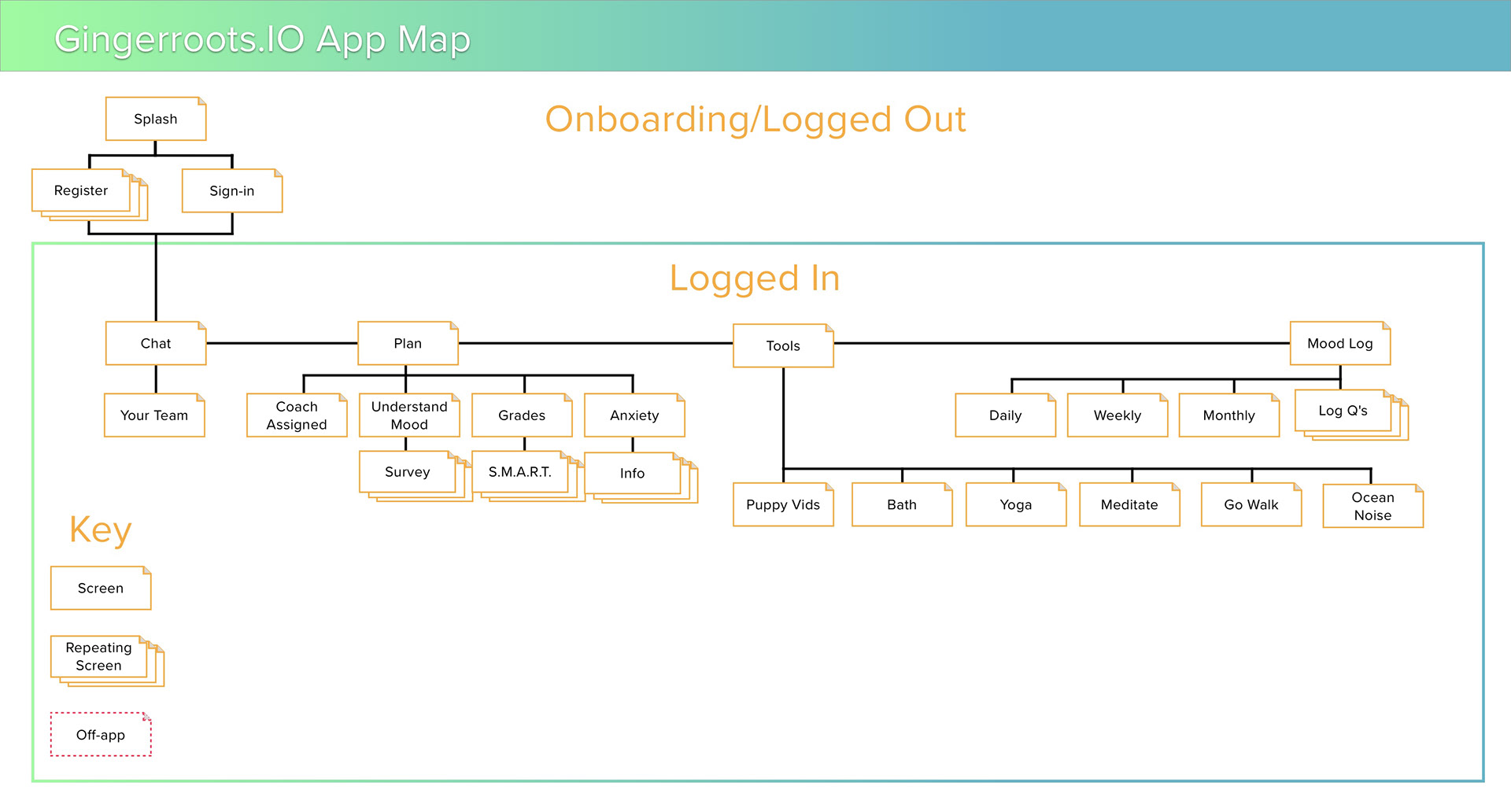 Design for an existing brand often means adopting conventions already established. For GingerRoots.IO, we maintained color schemes and formats while more closely aligning with iOS HIG standards. That included drafting ideas for revising content with a teen focus. While we drew inspiration from other heath apps, games, and social platforms popular with teens, we settled on smaller changes. 
Making the self-directed tools more pronounced, improving iconography, and adding a mood log borrowed from the best ideas seen in other like tools.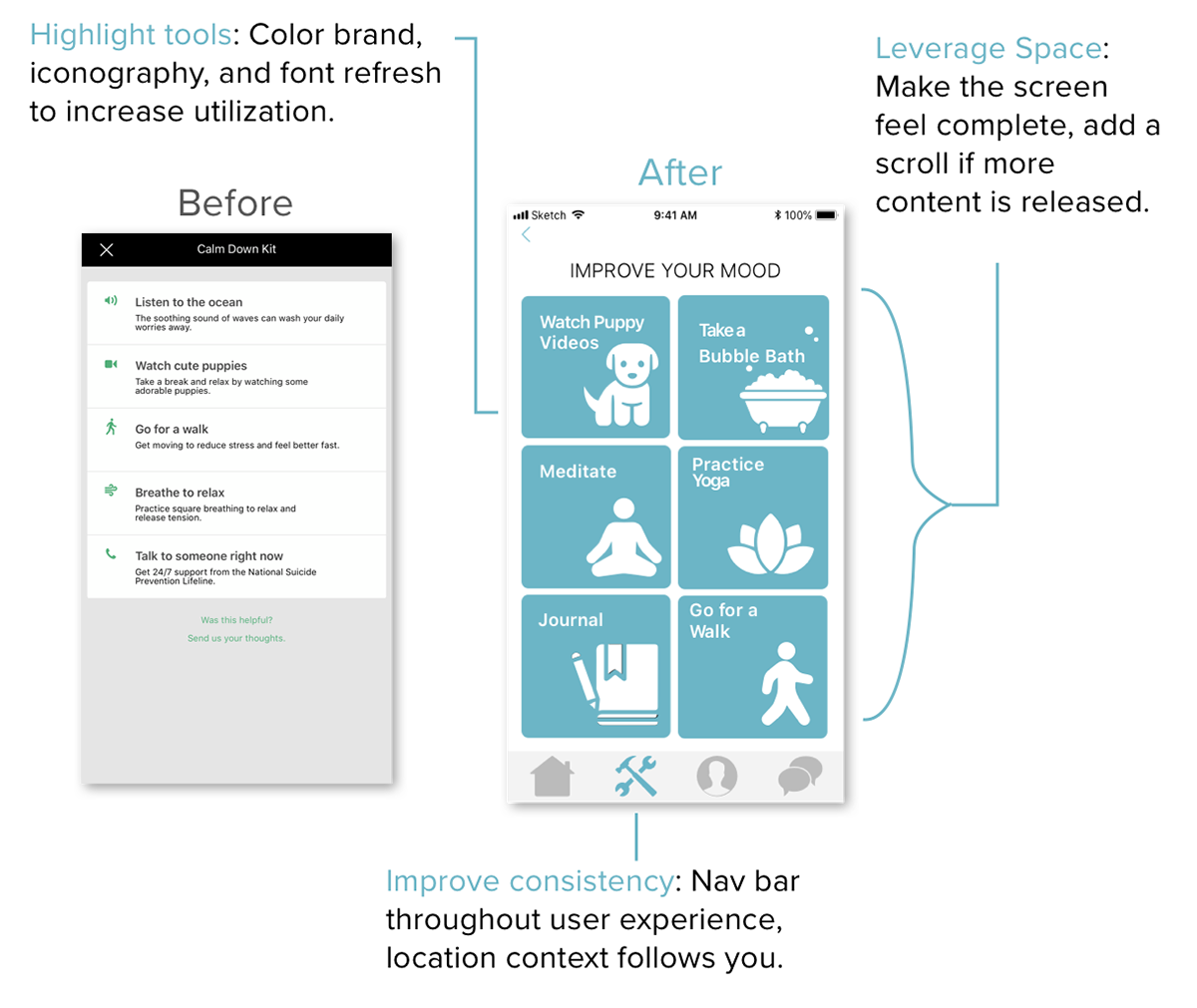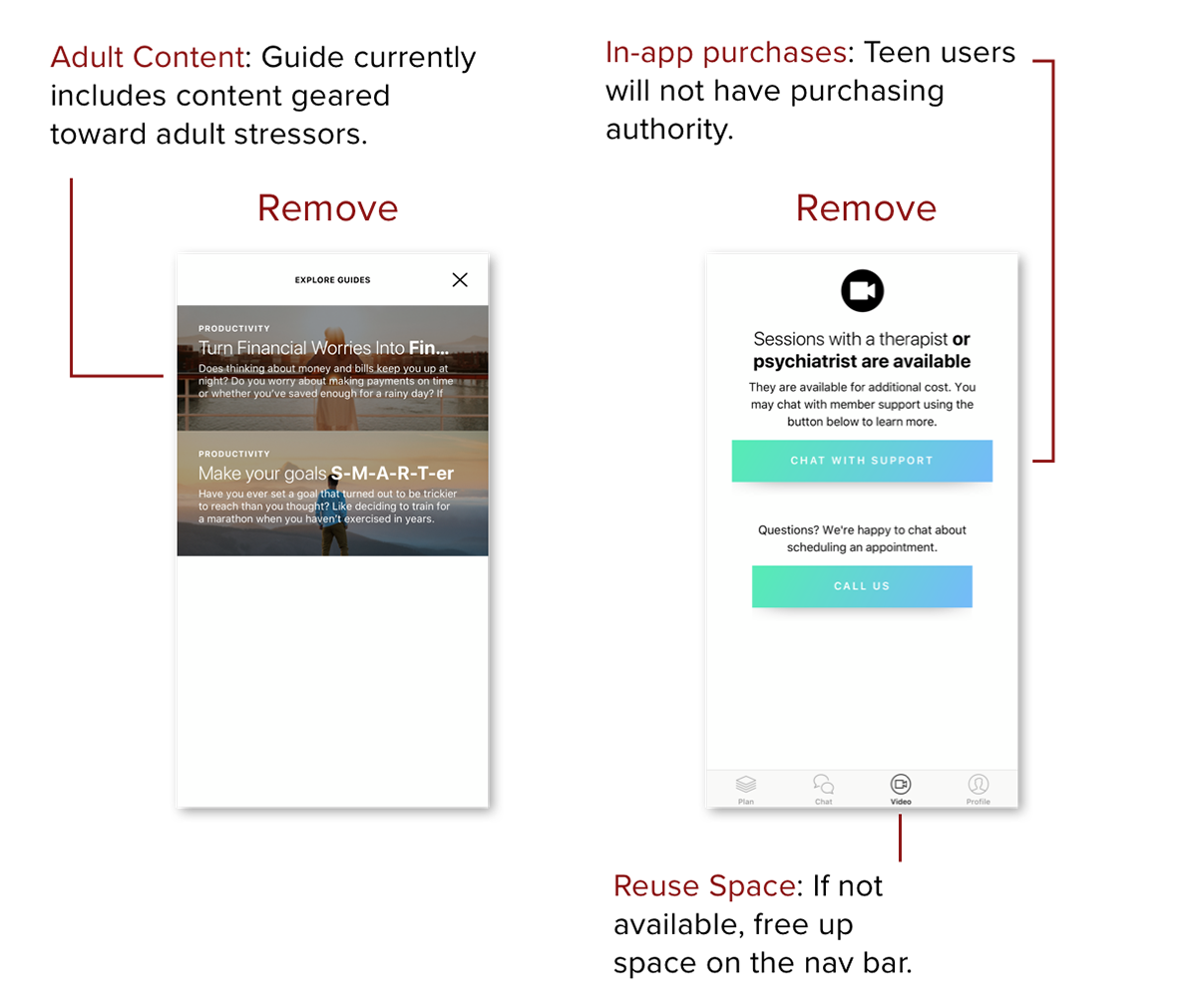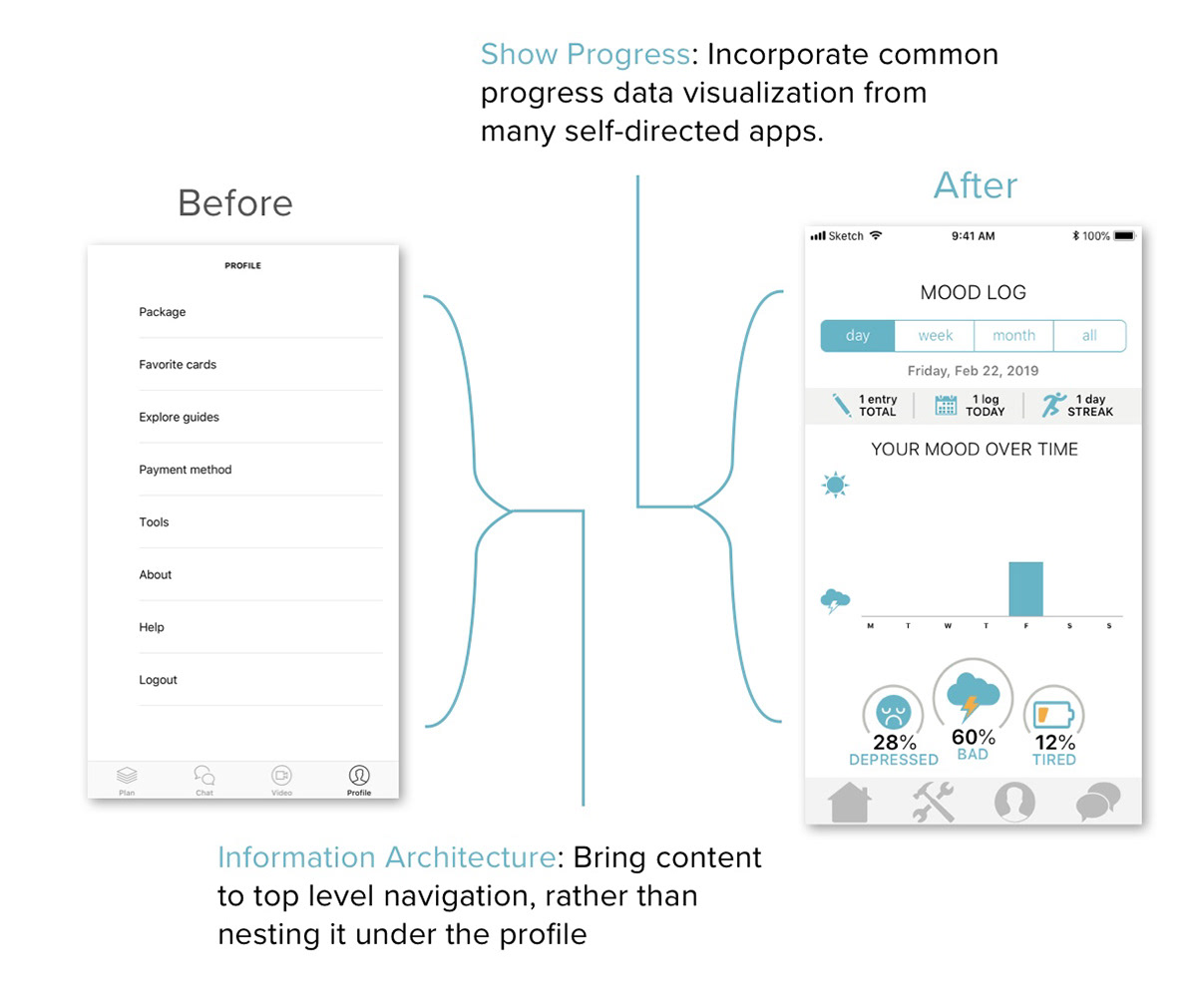 The below video takes you through a flow that focuses on the enhanced self-directed tools. As the most substantive change to the app, this best represents the shift in content to focus on a younger audience. 
With the initial design complete, we had the opportunity to validate design by participating in a usability test lab. Thanks to our partners at Home Advisor, the following content covers insights gained from testing that would inform further iterations of design. Using an observation room, their UX researcher lead designers through a recorded testing session. Flows for both high-risk and low-risk teens were presented.
Our Takeaway for version 2.0
Although not our target audience, the testers from the usability lab brought a fresh set of eyes to the app design. A few key things in our flow stood out for revisions.
• Our navigation icons may not match with the content they contain, the tool belt and bar chart did not connect with activities and mood log to the testers.
• More user on-boarding content would be helpful. The flow could cover on-boarding instead of going straight to the activity screen. This would support building trust and conveying purpose.
• More customization of tools would also be helpful. The content being reviewed as helpful might not be immediately obvious. Instead, consider making likable content savable. Also consider letting the user add their own content.
The industry is still researching the efficacy of different self-directed content. While Ginger is firmly rooted in best practice around coaching, engaging teens and building trust will require more than alignment with best practice. As teens use GingerRoots, Ginger is well positioned to collect research data on the impact of different interventions and hone their return on investment.